For us, giving back goes way back.
We've come to believe that, in a small state where everyone's connected, the best way to make an impact is to lean into relationships, share resources, and stay fiercely committed to one another. We call this the "Delaware way."
The same ethic is rooted deep in the Calagione family tree. Our relatives were volunteer firefighters, school founders, and generous businesspeople. They modeled that to give back, you show up. We started Red Wagon Foundation to advance this legacy.
Issuing a check is just the beginning.
Since 2020, we've been bringing a community flavor to the world of philanthropy. We help our recipients put their funds to work however we can, welcoming them into our network of collaborators, nonprofits, and businesses.
Our goal is to make an impact that outlives the initial gift—creating ripple effects in the organization, in the community, and in society as a whole.
Meet the founders
"We're aligned with trying to bring other folks along. It's a group effort."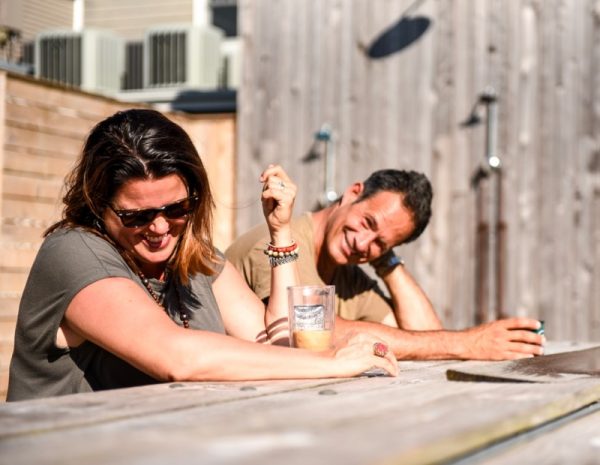 While Sam and Mariah Calagione are best known for founding Dogfish Head Brewery, they're most proud of their philanthropic work in coastal Delaware and beyond.
The high-school sweethearts started their craft beer enterprise back in 1995—well before opening your own brewery was considered a natural thing to do. At the time, it was the smallest commercial brewery in the U.S., with Sam handling brewing and Mariah overseeing operations. Today it's renowned for its innovative ales, category-defining IPAs, and "off-centered" ethos.
As the beer label grew into a national brand, adding restaurants, an inn, and a spirit line to its portfolio, the founders' hearts stayed close to the community. Under Mariah's leadership, the Dogfish Head team has worked to create housing, preserve natural beauty, and support nonprofits.
In 2020, Sam and Mariah committed to expand their reach by starting Red Wagon. Red Wagon Calagione Family Foundation supports a wide variety of community-based causes, offering flexible funding and bringing a distinctly collaborative—and always optimistic—approach to its partnerships.
Our foundation name
"The life is the red wagon, simple and strong.
You pull for me and I pull for you."
— "The Life Is the Red Wagon" by Jane Siberry
More than a soulful little tune about life, this song represents a truth at the heart of our organization. When you lean on your community—and offer your own gifts as you're able—we can all go farther. We're grateful to those who have pulled for us in the past, and thankful to take our turn pulling others.
Fun fact:
"The Life Is the Red Wagon" was the song played during Sam and Mariah's first dance.